Something's not working here…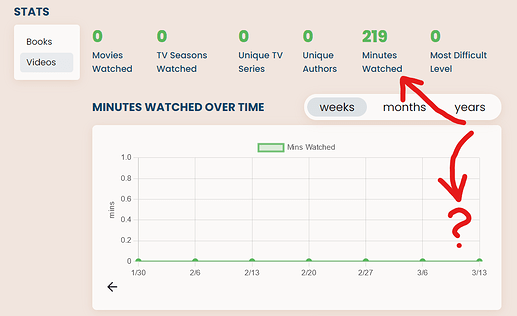 may or may not be relevant…
– I reset some shows I had from Finished to Owned.
– I started watching a new show this week. That should be about 100 min from this week.
– I have no idea how it's calculating the rest of the 219 minutes.
---
Shows vs Episodes – It seems that individual episodes should be treated like individual volumes with books – that each one can be graded and Finished/Watched separately, and that you can click "Finished" at the end of each episode and it'll auto-complete the time. The way it's currently setup, where you pick the episode and pick the time, is a bit clunky.
It seems like it'd flow better if you could finish watching an episode, then come to the Dashboard, click Update, click "I'm Finished" and auto-complete the episode (move it to Finished). And then the next episode would jump into your "In Progress" list (with a notification that that's what just happened).
---
@brandon You've made an amazing site!