Hello everyone, I would like to share an E-Reader app Immersion Reader, available for iPhone and IPad.
Background
For a long time there hasn't been a Yomichan tool on iPhone for reading. With a few weeks of developing, I made a small prototype and eventually turned it into a full app.
First of all, I made sure the lookup process was simple and fast.
A quick tap on the word and the dictionary pops up. No need to long press, highlight, or drag a bubble around.
To start reading, tap on the reader page and select an EPUB file from your phone.
Here's a guide on how to convert your Japanese books to EPUB.
You can install your own Japanese dictionaries, including monolingual dictionaries and frequency dictionaries. Unlike Yomichan, the search function also allows you to search in reverse for bilingual dictionaries, for example, using English to look up Japanese words.
To add your words to Anki, tap on the top right corner to export your words to the AnkiDojo format. Transfer the file to your computer with AirDrop or cable, and then sync it to Anki through AnkiDojo. There's a 3 minute walkthrough on how to set it up, and feel free to reply to this thread should you have any problems.
Screenshots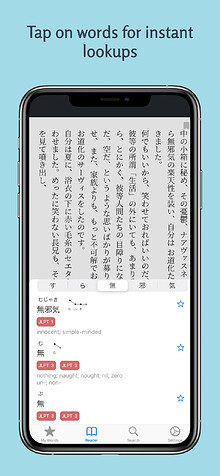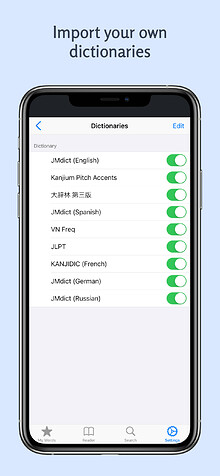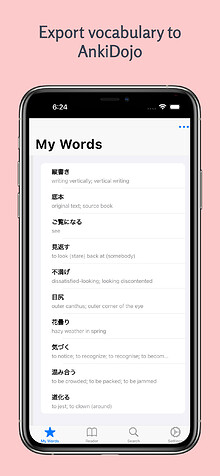 Upcoming Features
Audio Books
Read Along Books
Browser
RSS